Our suites at a glance
Our 82 suites, ranging in size from 28 to 60 m², are ideally suited for short and longer stays. Here you can find out everything about the equipment at a glance.
Equipment our rooms
All our suites have high-quality equipment:
Spacious bathroom with bathtub/shower, hairdryer and cosmetic articles
Fully equipped kitchen (pot set, frying pan, crockery, glasses and cutlery) and dining counter
Satellite TV with Sky Movie and Sky Sport (free of charge)
Stereo radio with CD or DVD player
generous beds (180×200 cm)
Partly with air conditioning
Categories our suites
Our seven room categories differ in living space, floor plan, location within the house and price. The basic equipment is always the same.
Living spaces from 27 to 45 m²
Cosy one-room suites and spacious two-room suites
View of the green
terrace access in some suites
room service
Inexpensive and secure parking
Late check-in and late check-out possible
Standard
33 m² living space
fully equipped kitchen with dining counter
facing the street
separate living room and bedroom
Price per night from 77 €
Studio
27 m² living space
access to the terrace
facing the garden
combined living and sleeping area
Price per night from 82 €
Comfort
38 m² living space
for single or double occupancy
facing the street
separate living room and bedroom
Price per night from 82 €
Superior
38 m² living space
for 1 to 3 persons
facing the courtyard
separate living room and bedroom
Price per night from 88 €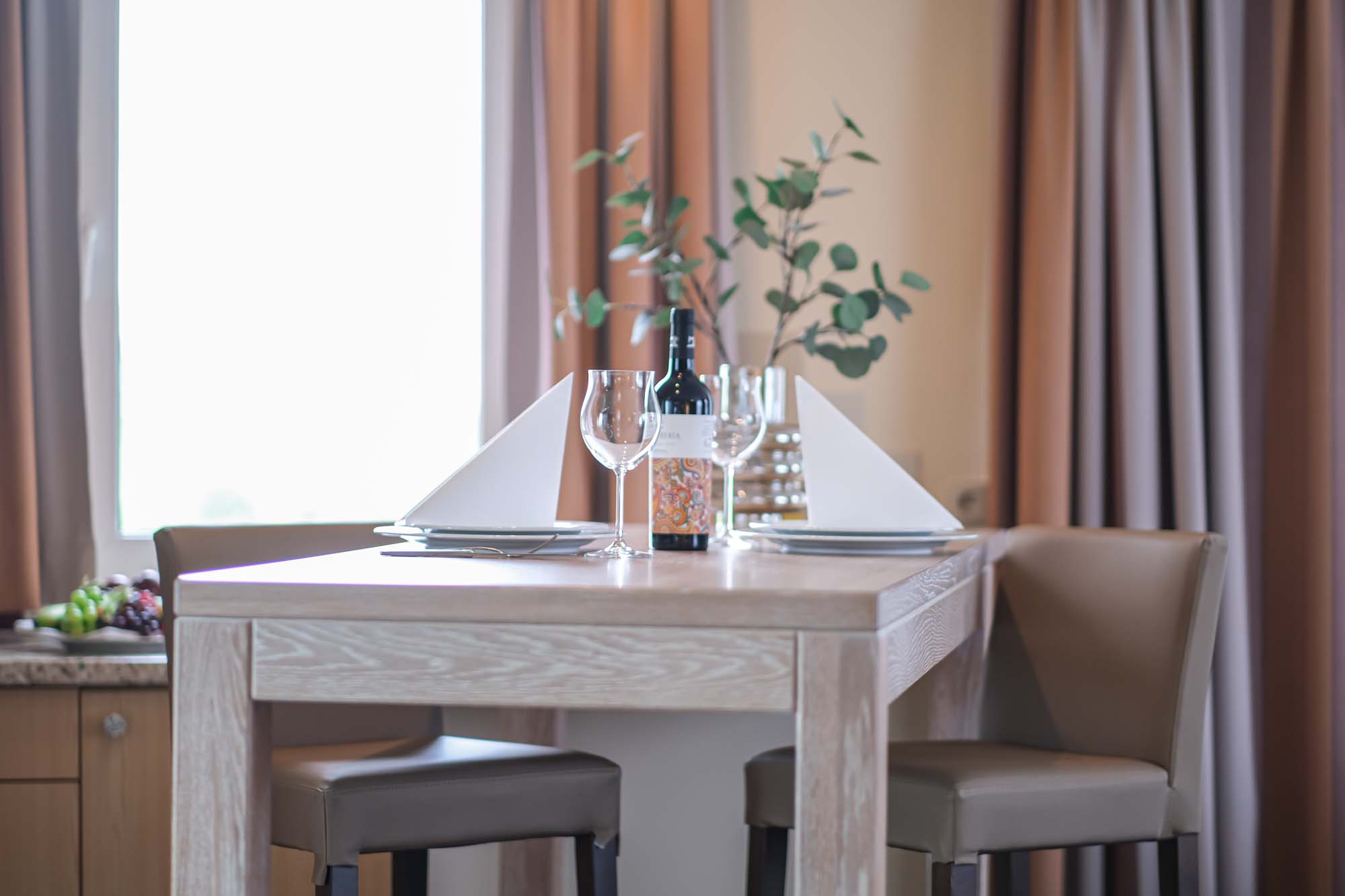 Deluxe
45 to 60 m² living space
single or double occupancy possible
comfortable box-spring beds
separate living room and bedroom
Price per night from 102 €
Family
up to 45 m² living space
fully equipped kitchen with dining counter
separate living room and bedroom
Price for 2 adults and up to 2 children (0 to 16 years)
Price per night from 119 €
Holiday flat
45 m² living space
separate bedroom with box spring comfort
Children (0 to 16 years) stay free of charge
Sky Movie + Sky Sport free of charge